I just realized (okay, I am actually counting down) that in just a month and 10 days, I will be in the process of hauling ALL of my crap (and loved items, of course) into a big empty apartment...and the boy will be doing the same. Luckily, he probably has less than 50% of what I'm going to be hauling around, but like I mentioned
before
, his current setup has no defined style whatsoever, and my current place was shared with a roommate and I invested very little into styling my place (aside from my bedroom) once I knew that the boy and I were "in it for the long haul," as they say.
All of this comes down to two things: 1. this move-in is a huge (and my first) opportunity to really decorate a space to my taste, and this freedom is the biggest motivation behind my
spending freeze
, BUT, 2. I have NO idea how to style for men's tastes - I can't pick out his outfits without making him look at best, bisexual, let alone create entire living space that doesn't scream "single 20-something fashionista."
I want the space to have a defined style, but I am seriously struggling to curb my tastes and instincts to be less uber femme. I am fairly preppy by nature (I have had multiple people tell me in the last few months that I am the preppiest person they know...seems like a gross overexaggeration to me, but whatever), and I think prep often has a girly feel. So that said, I am thinking the best way to tone down the Lilly/Kate Spade/Trina Turk color splash extravaganza, I might try to steer in a more nautical direction; pun 100% intended.
Regardless, I can dream, right? I have been a complete click monster on every One Kings Lane and Joss & Main email I get. I'm literally making some marketers day by shooting up their click through rates on every. single. promo. Here are a few things at the top of my wish list for the new place: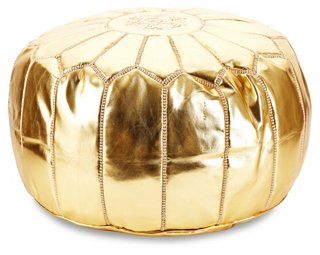 Okay, so maybe a little girly, but less than the light pink option. I've been dying to add a
pouf
to my living room setup, eventually as a footstool for a fun patterned accent chair (preferably wingback, thank you very much!)
I know this is a pricey option, but I am DYING for this
Society Social bar cart
in our massive living space (and to style it up-but more on that later).
I do need to decide on a coffee table before I can make this investment, but a laquer tray is CRUCIAL. I'm obsessed with iomoi's patterns, but definitely can't afford them. I guess it will be more worth it when our initials are finalized (yeah yeah, getting too surrious over here) but I dream of this:
Brown popped with orange is stylish, but manly enough for a living space, no? My couch is a cocoa brown suede, so I'm thinking this pallette might be the way to go, in spite of my intense draw to nauticalia (damn myself for not going with a lighter couch!).
Speaking of initials, I am in love with these
S&P shakers
but I fully realize that this is an impractical purchase pre-nuptials (and pre engagement...I mean, who am I kidding?!)
On a more practical note, I am definitely planning an investment in a pair of these
Design Darling topiaries
to spruce up my black lacquer entry table in the new place. They're not too femme coupled with a tray for keys, a few candles and a gold mirror hanging above, right?
What are you rules for boy-friendly decorating? I'm clearly in need of some help!