I have been horrible absent lately, I know. Between the holiday (and really, my sister's
puppy
), and really kicking my new job search into high gear (first interview this week, already!) I have been nothing short of swamped and totally worn out. Like, sleep in till 11:30 worn out - I haven't been able to do that in literally years.
This all isn't to say that I'll be posting as frequently as I'd like to be - yet, but I couldn't NOT share this with you.
Bloomspot is offering
$50 for $100 worth of merchandise
from the one and only,
Serena & Lily
. Obviously, I am a fan, as this is the VERY girly bed my boyfriend is forced to sleep in every night (the
Caroline
, only appropriate given my name, no? Let's just overlook that is is "made for" little girls...):
While their bedding is notoriously expensive, I have to say that after owning this set for 3 years, and I am completely happy with my investment; no rips, tears, or stains to report (and all machine washable!).
I do, however, have a new set on my wishlist, mostly so my poor guy doesn't have to sleep on a princess pouf. I've been eyeing the
Catalina
duvet for a good year (since we decided to move in) and will more than likely be replacing the master bed with something along these lines when we upgrade to a king (and my beloved Caroline will live in the guest room - wanna sleep over?):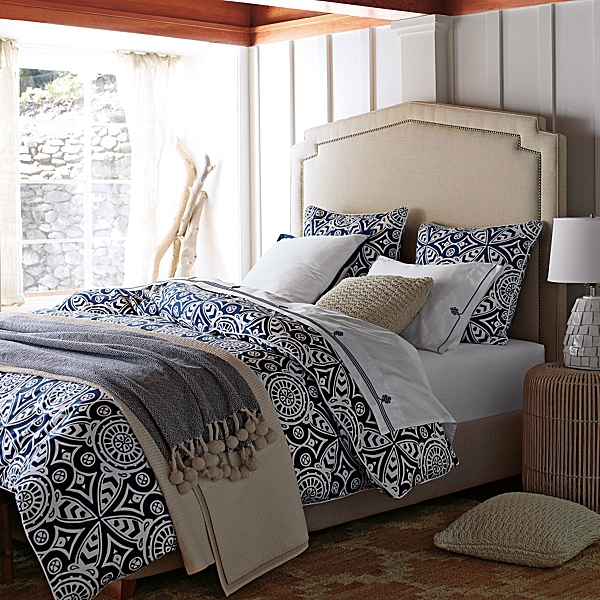 Gorgeous, right? And masculine enough, methinks.
Unfortunately for me, I am flat broke after the Black Friday - Cyber Monday sales, but if you're even remotely considering new bedding,
don't miss this deal
!
That's all for now - excuse my while I go wallow in the fact that it is snowing by obsessively scrolling through
cabin porn
(safe for work, I promise!).
I die.