I am losing sleep over paint. Yes, as in wall paint - the thing that is so NOT permanent and not costing me a dime out of pocket (aside from the massive price tag of a city condo, of course).
We went to see the progress on our new place on Saturday for the first time since we put in the offer, and were shocked to see the walls already going up. We were then notified that we owed them our 4 paint (+ trim - "You just HAVE to do White Dove - there is NO other choice!) colors by Friday of this week. Cue internal screams of "oh shit, oh shit, oh shit, oh SHIT!".
Realistically, I know that paint can always be changed after the fact if we don't like it. But let's face it we (I) are lazy, and the likelihood of us repainting the whole apartment, or even just one room, after all of our furniture has gone in is beyond unlikely. So, thus began my obsession withe Benjamin Moore's
color board
and thousands of Houzz searches for paint color after paint color.
I should note that this is my very first experience with selecting paint colors, and that because this is being done by contractors in a condo that is not yet complete (or even close to it), I don't have any opportunity to go in an test our a few paint choices on different walls to see how it meshes with the trim (will be White Dove if for no other reason than I CANNOT pick a white out of a pallette of 100+), how it works against cabinetry (there isn't any yet!), and I can't see how it will look at different times of day/in natural vs. electric light (none of that yet either!).
Suffice it to say that I am clueless. What I know is:
- We are going for New England/nautical (living 1.5 blocks from the ocean on Boston - how can I resist?)
- I need a very, very neutral white on the walls in the guest bed & in the entry hallway (guest bed will have
these linens
and pink walls are not an option - entry/hallway is going to end up being done up with navy stripes, like
this
)
- We are doing navy walls in the bedroom. We have 4 windows in the master (woop!) and I have been dying to give the boy a more masculine bedroom after being stuck with girly (not to mention that it's technically children's) bedding for the last year. Navy = nautical & masculine, and I mean, who wouldn't want to sleep in these glorious caves?
Right.
(PS: I'll be sharing my ongoing navy bedroom design boards (yes, plural) soon!)
But that's all I've got. After about 18 hours of research, here's where I'm at:
TRIM:
'Cause I mean, I 'have' to.
But now - how do I decide what shade of white to paint the cabinets? The same? I think I want something more "pure white", if there even IS such a thing. Another problem for another day (hopefully).
MASTER:
It became clear pretty quickly that Hale Navy is the best/only option for the bedroom. All of the other Benjamin Moore dark blue/navy shades either err too much on the purple side or are too Crayola-y. This shade is super deep and pigmented but in every photo I've seen, has a dustiness to it that keeps it from reading anything but a gorgeous navy in every light.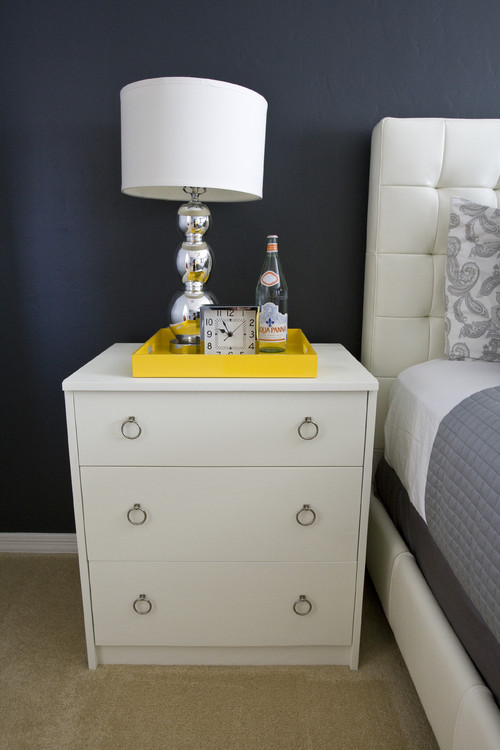 Clearly, very different. I love Moonlight White but I'm afraid it is too similar to White Dove (though the internets tells me they look great together), but I am thinking Snow White might give me that super white, clean look and "reverse contrast" with the more gray tone of the trim? Is that even a "thing"?
Time to go to interior design school, apparently. Anyways...
MASTER & GUEST BATHS (+ LAUNDRY):
The guest bath color doesn't actually matter as we're wallpapering with
this
(eee!) as I mentioned in our
guest bath plans
. But, for the master, I am still undecided on whether or not I want to paper it (I would DIE for
green Scalamandre
in there but I don't think the boy will go for it) - and I think we need a more bright and serene bath to break up the boldness of the navy bedroom.
We'll likely use this in the (small) laundry room as well, which is off of the entry/hallway, so I am trying my best to keep in neutral. Top contenders are currently:
LIVING SPACE & KITCHEN:
By far the hardest choice of all, not only because it's the largest space in the house and where we'll be spending the most time, but also because it's the only space that I have no idea what kind of furniture and accents we'll be working with. Of course, we both have couches, but it's becoming more certain that my chocolate brown sectional won't fit. And neither of us has a proper dining table. So - BLANK SLATE. Great, right?
Not so much if you're trying to select paint to complement your decor - and call me crazy, but I refuse to make my decorating decisions around something as "easily" interchangeable as a paint color.
But alas, I still have to pick something (pouty face). For now, these are my top contenders:
Clearly, this is somewhat of a crisis. My parents have Gray Wisp in all of the bathrooms in their new house, as well as their bedroom. My sister also repainted her entire one-bedroom apartment in Gray Wisp. It's a gorgeous gray-blue, but I am freaking myself out that it is too dark and blue (and therefore more limiting design-wise) for us to use in this huge space. On the flip side, though, Silver Cloud and Wickham Gray may or may not be the safest (read: boring, in the words of the boy) colors I could have come up with. So - blank slate? Yes. Entirely uninspiring? Maybe.
This is all not even mentioning that the boy has (very gently) noted that he may prefer a more saturated warm taupe or tan color in this space. I won't even go into listing the options there because my head may explode (BM has at LEAST 50 colors that fall into just the "tan" category).
Have you had enough "woe is me" talk yet? Thought so.
By Friday, I'll have all of this narrowed down the four choices (HAH, I'll keep living in denial for now), and hopefully I'll have some progress photos to share next week!
In the meantime, if you have any thoughts on/experiences with any of these colors (or other suggestions entirely) I am all ears (and eyes).